Liam Gentry won a low-key duathlon staged near Carlton Colville on Sunday with a strong performance.
Numbers were few but competition was intense.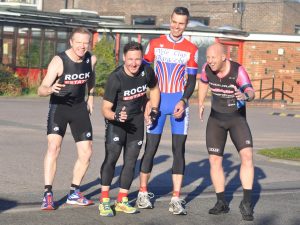 The informal event organised by Velo Club Baracchi annually since 2002 is a tribute to former club treasurer Keith Stephens, who was well known in running and cycling in Lowestoft and died in an accident that year while riding for the club.
Gentry successfully defended his title in the even
t and the silver-plated cup will be his for another year.
On the first run Mark Thompson led the way and reached the transition ahead of Gentry, Patrick Harbord and Paul Hayward.
On the bike, Gentry overhauled Thompson to wipe out his lead of 27 seconds and pull away further.  Gentry's final margin of victory was two minutes and thirty-nine seconds.
Behind there two, Hayward and Harbord came in more or less together and on the last run Harbord pulled out a distinct lead of nearly four minutes over him.
John Thompson rode the new "Sourcy Suffolk" 106km audax ride on Saturday, so-called because it starts at Debenham, at the source of the Deben river.
The route included Letheringham, Wickham Market, Eyke, Debenham, Laxfield and thence back to Debenham.
Thompson finished in 6 hours 27 minutes and said it was "arguably a bit on the slow side but for much of the morning I was riding with a long-standing friend from my days with the East Anglian CC, Dave Anness, and a friend of his, both of whom are not fully fit.  I was happy to do so."
Thompson then picked up speed to finish and called it "a ride through nice lanes in glorious sunshine."
On Sunday he rode out to Gt. Yarmouth, Potter Heigham and Horning and beyond to do some work for his new '100' Audax now on the 2019 calendar, reporting favourably on a café at Horning. His distance was just short of 69 miles.
This Sunday the VC Baracchi 8.30am club run from the Cotmer Road roundabout will lead to the annual freewheeling competition at Jays Hill in Sotterley and on to the hill climb on Station Road Alburgh, still known to the riders as Dove Hill despite the renaming of the adjacent café as Farmers Kitchen.
https://www.vcbaracchi.co.uk/wp-content/uploads/DSC_0044.1.jpg
1395
1860
John
https://www.vcbaracchi.co.uk/wp-content/uploads/Logo1.jpg
John
2018-10-26 01:11:15
2019-01-09 22:22:20
Gentry wins the Keith Stephens duathlon