Lucas He, Velo Club Baracchi's exceptional junior rider, was given the club's Rider of the Year award at the club's annual presentation evening in a ballot of members.
This award was presented by the club chairman Brian Boxall, who had given members six nominations for the award.
The guests of honour were Pete and Pam Milner of Lowestoft, the Godric CC timekeepers who also officiate at many open events locally.
Mr Milner presented all the other prizes and certificates except for two special awards.
The Bernard Dale hill climb trophy, won by Lucas He, was presented by Bernard Dale's daughter Jenny Dale and the Ernie Randall 50-mile scratch veteran trophy won by Paul Dennington was presented by Freda Randall.
There were twenty-one certificates for time trial and road race achievements and the light-hearted Freewheel Trophy was up first, won by Keith Wink for his skills downhill.
Lucas He also won the trophies for 10-mile time trial and junior Rider of the Year.  Paul Dennington also won the 30-mile and 50-mile trophies, the Athlete's 10 and the veterans' trophies for 10-mile scratch and 30 miles.
Paul Hayward won the 25-mile championship.  Chris Womack won the veteran championships at 10, 25 and 50 miles and the veteran BAR with a record aggregate "plus" of 70 minutes and seventeen seconds.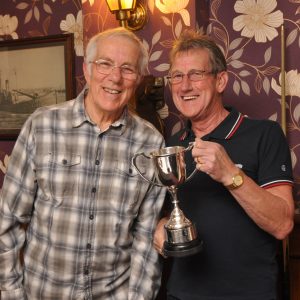 Dennington and Keith Wink won the 10-mile tandem trophy with a ride that equalled the club record and the 25-mile trophy went to John Swanbury and Ali Banks.
Mark Richards won the club road race championship and the short course time trial BAR with an average speed of 29.84mph.  He was also awarded the Charles Grimmer Memorial Trophy for his valuable contributions to the club organisation, its events and the sport of cycling.
Second-claim member Jenny Anderson won the ladies' cups for 10 and 25 miles and Nick Esser won the veteran road race trophy.
Liam Gentry won the Keith Stephens Memorial Trophy for duathlon and Kate Churchill the Women's Rose Bowl for her support and participation in audax and other long-distance rides.
Verity Smith of Stowmarket & District CC was this year's winner of the Jane Travers Memorial Trophy for this year's open May Day 10.
Finally, the Holmes Cup for inter-club competition with Gt Yarmouth CC was formally presented to their representative Norman Harlow.
On Sunday ten riders set off on the Chairman's Breakfast social ride to Bungay with the blessing of the chairman.  Unexpectedly the new vice chairman Paul Hayward, was missing, presumed to be out of action after the celebrations.
N.B. If you are on Facebook, a more comprehensive set of photos of the presentation evening and another of the Chairman's Breakfast ride is here https://www.facebook.com/groups/19351888767/
https://www.vcbaracchi.co.uk/wp-content/uploads/Rider-of-the-Year.jpg
1282
1930
John
https://www.vcbaracchi.co.uk/wp-content/uploads/Logo1.jpg
John
2017-11-29 12:09:48
2017-11-29 12:11:33
Lucas He is VC Baracchi's Rider of the Year