In a busy week for Lowestoft's cycling club, Velo Club Baracchi, Mark Richards set a 50-mile time trial club record and members staged the Summer Road Race at Ringsfield, in which Nick Esser took ninth place.
Richards was riding in the Shaftesbury CC 50-mile time trial on the A14 and A11 dual carriageways in the Newmarket area.  As usual, fast riders from all over the country flocked to enter the event and only the best got in.
Richards' time was 1-44:44, a 28.64mph average speed and a personal improvement of fifteen seconds for the new club record.  He was just outside the top twenty riders.
Carl Donaldson of GS Metro, a Northumberland club, won in 1-36:13 and the top woman rider was Kate Allan of Drag2zero in a remarkable 1-45:36, hot on the heels of Richards in the results.
The VC Baracchi road race at Ringsfield in its second annual edition was for riders of categories 2, 3 and 4.  Seven laps through Ilketshall St Andrew, St Lawrence and Redisham gave a distance of 66.5 miles.
Luke Rowell, Liam Gentry, Richards and Nick Esser represented the home club in the race, which proved to be fast race from start and the average speed of over 28mph over the first two laps proved too much for Rowell and some others, whittling the bunch down by at least 15 riders.
Esser said, "Mark went early to try and establish a break but his recent good form has made him the man to watch so despite his best efforts he was brought back within a few miles.  Liam countered immediately and established a break of no more than 30-seconds which lasted at least 20 miles."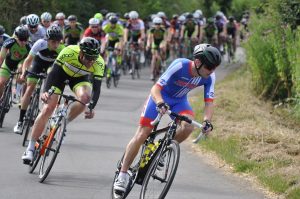 Strada Sport's Morris Bacon from Bungay established a break with two others and despite the fast-moving bunch pressing hard they managed to stay away until the finish, with Bacon taking the win, Andrew Taylor of VC Norwich second and Lee Perry of Veloschils-Interbike RT third.
The VCB riders were in the next group to finish. Esser said, "With four miles to go Mark and Liam lit the road up from Redisham and I was third man ready for the lead-out and sprint. The lead-out train had a great effect. No-one had the chance to attack as the pace was 28mph+ all the way in – against the wind!"
One rider, Benedict Thompson of VC London, just managed to escape by ten metres or so and hold off the bunch but Esser was in the remainder of the bunch sprint for fifth place, losing position a little and settling for ninth, with Gentry and Richards following on in 18th and 19th.
Club members and many other people in the sport including the race officials and accredited marshals made the race possible and local people came to watch and support it.
Lucas He of VCB took second place in the Gt Yarmouth CC club time trial with 23:36, behind Simon Scott of Anglia Velo (23:13) and ahead of Louis Julian of DAP CC (23:40).  Richard Allen of VCB recorded 30:44. Fifteen rode. Godric CC's time trial was rained off.
https://www.vcbaracchi.co.uk/wp-content/uploads/DSC_0345.small_.jpg
641
965
John
https://www.vcbaracchi.co.uk/wp-content/uploads/Logo1.jpg
John
2017-07-25 16:38:49
2017-07-27 17:21:24
Richards sets new VCB 50-mile record; Esser ninth in Summer Road Race