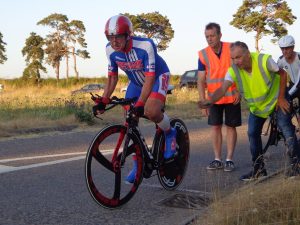 Chris Womack, VC Baracchi's supervet, underlined his credentials with a fast ride in a 10-mile time trial on the A11 beyond Newmarket and then a great ride in a 100-mile event.
The 100-mile event was the East District Cycling Association championship time trial, using the more northern parts of the A11 between Attleborough and Browick.
Womack used a road bike for this for greater comfort, with clip-on tri-bars.  It was not without mechanical incident, especially when one of his tribars was knocked askew on one of the road imperfections
Despite these few issues Womack, 71, managed a 4-38:52 ride, not so very far outside his best is 4-24:50 personal best, ridden in 2013.
Gt Yarmouth CC's Jan Smith of set a new women's club record of 4:25:13 for her club, while Alice Lethbridge of DRAG2ZERO set a women's course record and competition record of 3-42:03.  The men's winner, Charles Mitchell of a3crg, also set a course record with 3-25:04.
In his 10-mile ride in the VTTA (East Anglian Group) open event Womack achieved 23:27 and John Swanbury's time was 24:22.
Matthew Smith of DRAG2ZERO was the absolute fastest in 18:15 at age 40 and the best male on veteran age standards was Keith Ainsworth of Sheffield-based Sheffrec CC with 19:44 at age 59, a veteran "plus" of 8:08.  Fastest of the women was Jackie Field of CC Ashwell with 21:20.
Godric CC's 10-mile club event last Tuesday was won by VCB rider Lucas He, still in his last junior year under the rules, with 21:33, twenty-six seconds faster than second-placed Nick Partridge of Plomesgate CC.
Other VCB times were Paul Dennington 23:15, Alex He 24:47, Paul Reed 26:16 and on the tandem, Swanbury and Ali Banks 22:57.
Club member Tim Cowan on a visit from New Zealand that was for his impending wedding invited club members Pat Harbord and Ali Banks, with former members Ian McCluskey and Phil Swanbury on an enjoyable 110-mile bike ride into Norfolk and Suffolk.
John Thompson rode about 80 miles including Norwich, Lenwade, Hockering, Wymondha, and Hempnall, availing himself of numerous refreshment stops during his day.
The VC Baracchi Ringsfield Road Race fell victim to some temporary traffic lights on the A144 which caused cancellation for safety reasons and efforts to reschedule it may save it for another day.
https://www.vcbaracchi.co.uk/wp-content/uploads/DSC02266-Copy.jpg
838
1116
John
https://www.vcbaracchi.co.uk/wp-content/uploads/Logo1.jpg
John
2018-07-23 22:00:37
2018-07-23 22:54:57
VCB's Chris Womack underlines his credentials at 10 and 100 miles