Velo Club Baracchi riders enjoyed their usual two hill events on Sunday.  One was a freewheeling competition from a standing start for the downhill experts and the other was a conventional hill climb.
It was Keith Wink who took the VCB freewheeling trophy win on Jays Hill in Sotterley, when he set off from a standing start atop the hill and had the best VCB result by travelling the furthest at the bottom of the hill on a slight upward gradient.
Sam Baxter of Rock Estate was the best of that club's contingent and finished half a wheel further on, but the trophy in that event was solely for VCB members.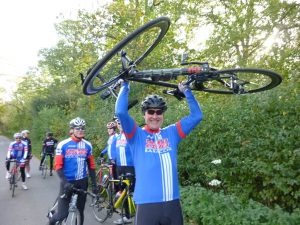 Fifteen riders had a go at the freewheeling and adopted a number of techniques and aero postures, but pedalling, lunging and other gamesmanship was strictly forbidden.
Most of the riders then rode on to Station Road at Alburgh, where the hill is known to the riders as Dove Hill presents a short but steep challenge on the north side of the Waveney Valley.
The hill climb there for the Bernard Dale Memorial Trophy was hotly contested and this time the Rock Estate riders were eligible.  The trophy is for Lowestoft riders and members of any Lowestoft club, but VCB's outstanding junior rider Lucas He saw off all opposition to win.
In fact, with all the men's times under a minute, Lucas went clear by ten seconds, a very clear margin.
The times were Lucas He (VCB) 39.75, Paul Hayward (VCB) 49.83, Sam Baxter (Rock Estate) 50.66, Rory French (Rock Estate 54.11, Kristian Giddins (Rock Estate) 54.75, Paul Dennington (VCB) 55.15, Paul Reed (VCB) 57.26, Chris Wallis (VCB) 57.54, Tracy Youngman (Rock Estate) 1:11.39.
Assistance with the event was given by VCB's John Thompson and John Dupen of Anglia Velo.
The riders enjoyed a good ride on the route to and from the competitions and covered around 45 miles.
https://www.vcbaracchi.co.uk/wp-content/uploads/P1000215.1.jpg
768
1024
John
https://www.vcbaracchi.co.uk/wp-content/uploads/Logo1.jpg
John
2017-11-02 23:48:48
2017-11-03 00:03:20
Wink freewheels and Lucas He conquers VCB hill climb