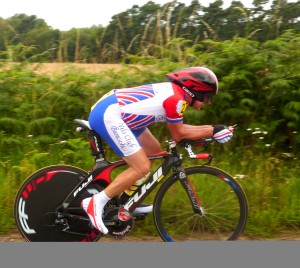 Chris Womack's club-mates in Velo Club Baracchi have admired his gutsy ride sub-five-hour ride in which he gave his all for 36th place in the RTTC national 100-mile championship time trial, probably the best VCB performance in a national championship.
He very modestly said, "My time, 4-45:02, was not great, but OK for a 67 year old." Indeed, none of the first 45 riders in the event was older than him.  Forty-seven finished, including 84-year old Peter Horsnell of Chelmer CC in 5-37:04.
The weather for the event was quite good, with light winds and mostly dry roads, but occasional showers that made some sections wet and with continuous rain for the last 15 miles.
He took care on the wet corners of the sporting course near Swaffham and managed to go well despite some bumpy roads and bad surfaces.
Womack said, "I had what I would call a steady ride with stops on lap three and four to pick up bottles and gels and one other stop.  I overshot the last corner to the finish due to rain and had to turn round and remount my bike, which cost me more time."
"By the time I had finished I didn't have the will to live and when I got back to the car I couldn't do anything for an hour due to feeling sick."
The event was organised by the East District Cycling Association and the new national champion was Charles Taylor of South Pennine RC in 3-43:28. Second was Adam Topham of High Wycombe Cycling Team in 3-45:37, third was Tejvan Pettinger of Sri Chinmoy Cycling Team in 3-51:47 and Michael Broadwith of Arctic Tacx RT finished in fourth place with 3-53:47.
Daniel Bloy of Team VeloVelocity, who wins quite a number of local open time trials, was eighth with 3-57:35; he and two team-mates also won the team prize.  Bungay fast man Jim Burgess of Anglia Velo was fourteenth with 4-08:02. Bronwen Ewing of Trainsharp Racing Team won for the ladies (of whom there were 15) in 4-11:25.
In the Godric CC 10-mile club time trial Paul Dennington set a new personal best of 22:31 and Mark "Titch" Richards rode one too, of 23:21.  The other VCB times were John Dupen 23:09, George Kerridge 23:37, Mark Womack 25:19 and John Swanbury 25:56.  First place went to the home club's James Trenchard with 21:06 with Dennington second.  Nineteen rode.
Mark Womack, who is Chris Womack's son, recently completed the 150-mile "Coast to Coast" ride from Seascale to Whitby in 15-34:24 but this included stops and his riding time was 12.5 hours.  He is grateful to Gt Yarmouth CC for letting him join them on "such a fantastic ride that I will never forget."
This was on some of the toughest routes in the country involved 4500ft of climbing.  Hardknott and Wrynose passes were the two worst climbs and only 15 miles in. Mark arrived at the first checkpoint/feed station at Kendal (30 miles from the start) in 3 hours 42 minutes. His legs suffered from the climbs and he felt like giving up there but after some food and rest continued onwards.
He added, "Then disaster!  My chain broke on the steep hill out of Kendal. It was fixed by a nice man passing which seemed to have stopped my gears from jumping around. From that check point I had a few riders behind me as I led the way into a head wind where I stayed most of the time to the finish."
https://www.vcbaracchi.co.uk/wp-content/uploads/P1130764.jpg
1702
1899
John
https://www.vcbaracchi.co.uk/wp-content/uploads/Logo1.jpg
John
2014-07-20 18:10:33
2014-09-04 10:38:50
Chris Womack's ride in the national 100; other VCB riders ride personal bests